The Water Footprint of Modern Consumer Society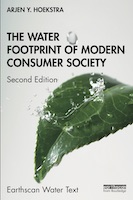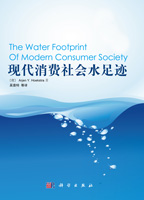 Book description
Using the water footprint concept, this impactful book aids our understanding of how we can reduce water consumption and pollution to sustainable levels.
Since the publication of the first edition, the question of how to reduce our water footprint has become even more urgent. Freshwater scarcity is increasingly perceived as a global systemic risk and overconsumption of water is widespread. The water footprint, a concept founded by the author, is an indicator of direct and indirect freshwater use by a consumer or producer which can be used to analyse water usage along supply chains and assess the sustainability, efficiency and fairness of our water use. This new edition is fully revised and updated to reflect continued developments in this rapidly growing field of knowledge. New chapters are added covering the history of the water footprint concept; the environmental footprint of the human species versus planetary boundaries; and the human right to water as a foundation to equitable sharing. All other chapters are fully revised with new findings, applications and references, including major new research on energy, vegetarian diets and intelligent water allocation over competing demands.
The Water Footprint of Modern Consumer Society is a key textbook for students of interdisciplinary water studies and those taking other related courses within the environmental sciences. It will also be of interest to those working in the governmental sector, environmental and consumer organisations, the business sector and UN institutions, where there is growing interest in the water footprint concept.
Table of contents
Preface
The environmental footprint of the human species
A brief history of water footprint thinking
Why do we overexploit our limited freshwater resources?
Drinking ten bathtubs of water a day
Water for bread and pasta
Meat and dairy, the biggest water users
How our cotton clothes link to a disappearing sea
The energy transition: how to combine carbon and water footprint reduction?
The overseas water footprint of cut flowers
The supply-chain water footprint of paper
Sustainability: water footprint caps per water body
Efficiency: water footprint benchmarks per product
Equitability: fair water footprint shares per community
Allocating the world's limited freshwater resources
Getting trade right
Product transparency
Who will be the heroes of change?
References
Index
Book reviews
'Water scarcity and water pollution are escalating global risks. Both are reinforced through unsustainable consumption and production patterns. Arjen Hoekstra discusses a range of innovative and evidence-based options to achieve sustainable water management that are very valuable and to be taken into consideration in water policy and decision-making.'
'Arjen Hoekstra convincingly points to the crucial role that water plays in our global economy and explains why this role must be managed not just locally. The strength of the water footprint concept is that it personalizes the decisions that lead to the global water risks and challenges we are facing today. The book's concepts and insights can help bringing stakeholders together and mobilizing action towards making our economies more sustainable. The book offers an important and critical perspective as countries embark on pursuing the Sustainable Development Goals – all of which have a water footprint!'
'The water footprint has fundamentally changed the way that we view the concept of 'water use' in context. With this latest edition, Professor Hoekstra offers updates that continue to inform, and challenge, thinking on how water is used within businesses, the economy, and how it needs to be considered within government allocation efforts. If we are to bend the curve on biodiversity loss, we urgently need to move towards water use that is within planetary and river basin boundaries, and this book offers insights on pathways to move us collectively in that direction.'
'When Arjen Hoekstra came out with the notion of the water footprint, it was warmly welcomed as a tool to raise awareness on the hidden link between water problems and our daily consumer goods. Finally, we had a common language in dealing with issues of water scarcity, pollution, waste and inefficiency. In this book, Arjen Hoekstra goes beyond awareness raising and shows how we can use water footprint assessment to solve water problems in practice and inform decision making across value and supply chains. The much anticipated second edition shows governments, businesses and consumers how to formulate incentives and regulatory measures that will contribute to sustainability and help us become responsible world citizens. Recommended reading for everyone!'
Praise for the first edition:
'How much water do we really use, as individuals and society? Until recently, we didn't really know, but the concept of the "water footprint" – developed and analyzed by Arjen Y. Hoekstra (and his colleagues) – has revolutionized our understanding of our water use. Hoekstra's compelling and informative book is a vital contribution to the desperately needed public debate over how best to move to sustainable water management, use, and policy. It deserves to be read by anyone concerned about the planet's freshwater resources.'
'Over the next 20 years the global demand for water is expected to exceed supply by 40% with dire consequences for our planet. Professor Hoekstra's meticulously researched book uses the concept of water footprinting – in ways that make it easy to understand just how much water plays a central part in our everyday lives – as a means of helping to manage and reduce water consumption. It is a timely contribution to an increasingly urgent debate.'
'No concept has done more to show the role of water in our lives. For too long, water has been mismanaged because it was invisible. The water footprint concept has helped us see how water flows through our lives and economies – and what we value, we protect.'
'This contribution by Professor Hoekstra advances our understanding of the role of water in the consumer goods sector and can move us closer to addressing water scarcity and sustainable consumption and move towards a Circular Economy.'
'The Water Footprint of Modern Consumer Society is worthy of the highest recommendation especially for college and university library collections'