Perspectives on Water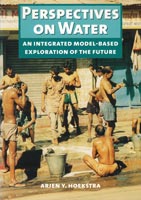 A.Y. Hoekstra
International Books, Utrecht,
ISBN 978 90 5727 018 8
Softcover, 356 pages
Order the book: English
Book description
The interaction between water and human development is changing. Traditionally a resource to be exploited, water today is increasingly perceived as a limited resource essential for human activities. The impact of human's water use on the global hydrological cycle during the past one hundred years will surely continue. There have even been warnings of a coming worldwide water crisis. Several observers urge sustainable management of the global water resources.
Perspectives on Water provides the basic analysis needed for such a management strategy. To study the changing relationship between water and humans, the National Institute of Public Health and the Environment (RIVM) in the Netherlands has developed the AQUA simulation model. This book introduces the model for the first time. Various 'possible water futures' are presented, based on different perspectives on how the world functions and should be managed. Arjen Hoekstra shows which risks are connected to different kinds of water policy strategy.
In this innovative text, the author employs an integrated and explorative approach, putting 'water issues' in the broad context of population growth, economic and technological development, land use changes and global warming. The water issues addressed vary from water scarcity and pollution to groundwater-level decline and sea-level rise.
Perspectives on Water offers an essential tool for planners, scientists and politicians.
Table of contents
Preface
Introduction
Water in the 21st century: questions and uncertainties
AQUA: a tool for integrated water assessment
Water indicators
Perspectives on water
The AQUA World Model
A global water assessment
The AQUA Zambezi Model
A water assessment for the Zambezi basin
Discussion
References
Summary
About the author
List of symbols
Abbreviations
Glossary